As a commercial roof installation and maintenance expert, Balken Roofing strongly recommends investing in a regular maintenance program for your commercial roof. A well-maintained commercial roof has many benefits. It lasts longer, better protects against the weather and saves you significant amounts of money.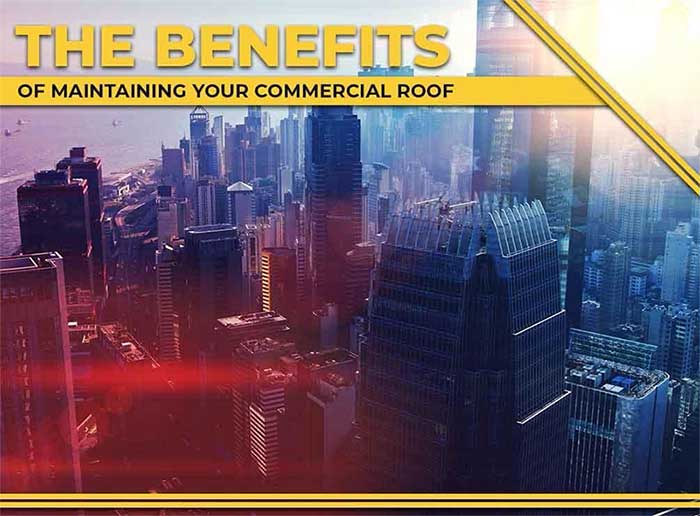 The Benefits of a Well-Maintained Commercial Roof
Preventive roof maintenance is about finding and repairing small roof problems, and stopping them before they cause damage. A well-maintained commercial roof has a longer life span, and can save you a significant amount of money on costly roof replacement. You won't have to worry about a chronic roof leak causing premature roof failure, damaging inventory, or creating hazardous "slip-and-fall" conditions.  After all, you wouldn't expect your company vehicles to run well if nobody ever changed the oil, changed the filters, or cleaned their trucks, would you?
When you don't have to worry about major roof repairs, you start saving time and money. The cost of regularly inspecting and repairing your roof is much less than a full roof replacement. If you want to get the most value out of your initial roof investment, focus on preventing roof problems before they happen. Contact us for an initial consultation, so we can discuss and compare the details of a full roof replacement cost and our scheduled maintenance services.
Another way Balken Roofing wants to save you money is by keeping the insulation under your roofing system dry. Wet insulation doesn't do it's job nearly as well as dry insulation, not to mention the long term damage that moisture in the thermal envelope of a structure can cause. We have access to the latest in thermal imaging technology in order to diagnose such problems, as well as to aid our technicians in the leak-detection process.
Things You Need to Know About Commercial Roof Maintenance
As a building owner or manager, it's important for you to understand the common causes of commercial roof damage. Excess foot traffic is a major problem. Too many people working on your roof can damage the roof membrane, so we suggest implementing strict protocols for walking on the roof. High-traffic areas should be equipped with the proper walkway pads; persons required to access the roof should be trained in how to do so safely. HVAC and plumbing technicians are notorious for damaging rubber roof membranes, either by leaving excess screws lying about to puncture the roof at a later date, or by dropping the sharp corners of metal access panels on them. Make sure your tradesmen are scheduling Balken Roofing to patch up after them if they do damage your roof, or whenever they run piping or wires through the roof! Such details are a critical part of your roofing system, and the smallest pieces can be some of the most difficult to install properly.
Ponding water is another all too common problem. This occurs when the roofing system has clogged drains or is improperly installed to begin with. We recommend researching and studying your roof material because different roofing systems require different kinds of maintenance for such issues. We call them "flat roofs" but in reality, they are "low-slope roofs", ideally designed to have some degree of slope in order to drain excess water. Nobody wants a lake on top of their building!
Grease traps are an equally large problem on commercial roofs. While patching up around them is a steady source of work for Balken's commercial team, we really would rather help you educate your staff on how to properly access and empty rooftop grease regularly traps instead. Sustainability is a core value at our company, and it starts with the mindfulness of everyone who works in and on your building!
Our roof inspection and roof repair service will allow you to get the most out of your commercial roof investment. Balken Roofing can keep your roof in excellent condition throughout the year. We serve many areas, including Asheville, Hendersonville, Burnsville, Waynesville, Black Mountain, Marion, Scenic Swannanoa NC, and the surrounding communities. Call us at (828) 662-3027 to learn more about commercial roof maintenance. You can also request a free roofing estimate. Our friendly and professional staff are standing by to help you save time, money, and headaches!