Custom Gutter Installers & Gutter Cleaning Contractors
After decades of serving customers around Asheville and western North Carolina, we can handle your residential or commercial gutter and downspout project. Gutters are a crucial aspect in making sure your home or business is protected. If your gutters are installed correctly, they will keep moisture away from your windows, doors, walkways, foundation and more.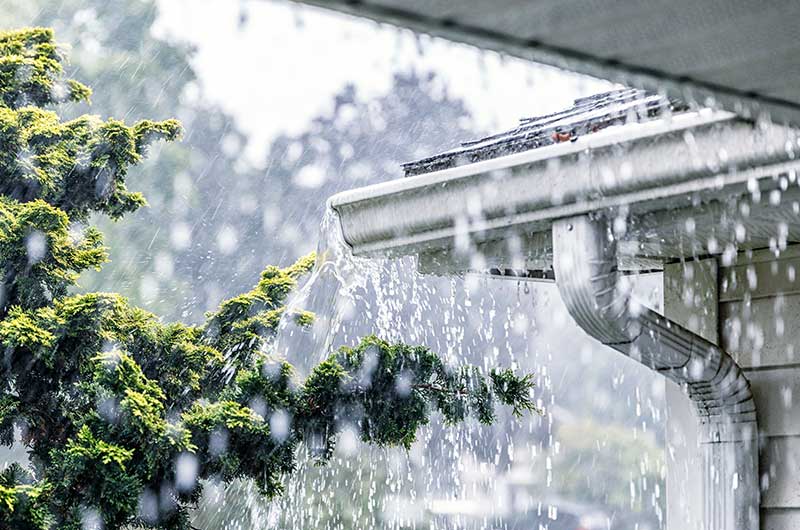 Balken Roofing has a full-service team of gutter installers that construct new seamless gutter systems on-site. Our high-quality gutter and downspout systems can help you avoid nasty damages from water intrusion, such as rotted fascia, soffit, rafter tail and mold damage.
Types of Gutters We Install
Aluminum gutters are the most common gutter systems installed on homes, and they come in a variety of beautiful colors. If you want to add a more decorative accent, we can install custom copper gutters or half-round gutters on your home. We also install box gutter systems on commercial buildings.
Five-inch gutters are typically sufficient for the average-size home. Six-inch gutters may be a better alternative for a larger size home or if your home has water drainage issues. If your current five-inch gutters overflow, the larger gutter system may help.
We Install Gutter Guards Too
Our gutter installers can install gutter guards over your existing or new gutter system. Installing gutter guards will help minimize gutter maintenance and keep leaves and other debris from clogging your gutters and downspouts. Gutter guards are available in a variety of colors to match your existing or new gutter system.
Professional Gutter Cleaning & Maintenance Service
Gutter cleaning is important to prevent your gutters or downspouts from becoming clogged with debris. When gutters and downspouts are filled with debris, many issues can arise, such as rotting fascia boards or rafter tails. Balken Roofing can provide seasonal gutter and roof cleaning to prevent these issues.
Request a Free Estimate Today!
You can trust our local gutter installers for all of your residential and commercial gutter needs. Call (828) 662-3027 or fill out our online estimate request form. We will be happy to discuss our gutter services and provide you with a free estimate.