For three generations now, Balken Roofing has the vision of providing the highest standards of Residential and commercial roofing and roofing repairs. Balken Roofing servicing Western North Carolina and surrounding communities including Asheville, Hendersonville, Waynesville. Combining old-fashioned workmanship and superior quality, a Balken roof ensures peace of mind.
As a Better Business Bureau Accredited Business in Asheville and Western North Carolina as well as a Chamber of Commerce member Balken knows the roofing business. We recognize our clients and employees as our most precious resource. Our workmanship and superior quality ensure customer satisfaction.
Choose your Roofing Contractor Carefully
Choosing your roofing contractor is the absolute most important decision you'll make for your roofing project. From your first initial contact with a Balken Roofing team member until the last nail or scrap debris that is cleared away, we ensure exceptional service to all of our customers. We have built our superior reputation only upon ensuring each of our customers is fully satisfied.
We are a company you can Trust
You do NOT want to find a decent company that gets the job done, rather a company that ensures excellence on each project. Balken Roofing installs a range of services and no matter how big or small the scope of the project we install peace of mind.
Balken Roofing is here when you Need Us.
We work with each of our customers to find the best fit for their home or business, both financially and correct materials. We will walk through each line of your proposal to explain any details more clearly. We install your roofing system as stated on your proposal.
We are Licensed and Insured for your protection.
History of Balken Roofing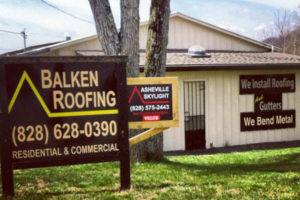 For three generations, Balken Roofing has been dedicated to providing the highest standards of workmanship and customer service. Balken Roofing has the vision of providing the highest standards of roofing and roofing repair services around the Great Smokey Mountains of Western North Carolina and Asheville. Bob Balken started as the first salesman, foreman, and owner all in one. Heather ran the office side of the business from their home in Fairview, and the crew met at the local Waffle House before jobs to regroup and discuss job details. Since then, Balken Roofing has grown and expanded into what you see today – running several crews year-round, and a bustling office with phones ringing left and right. Working alongside Bob and Heather is Bob's brother, Chad Balken, Executive Roofing Consultant. Heather's brother, Steve Williams, Executive Roofing Consultant. And Bob and Heather's daughter, Lauren Balken Searcy, General Manager.