A storm can take on various forms: it can be a hailstorm, heavy rain, tornado, hurricane, snow, or even strong winds.  Here are some details on what that could mean for a roof:Hailstorms rarely last more than 15 minutes, but the damage can be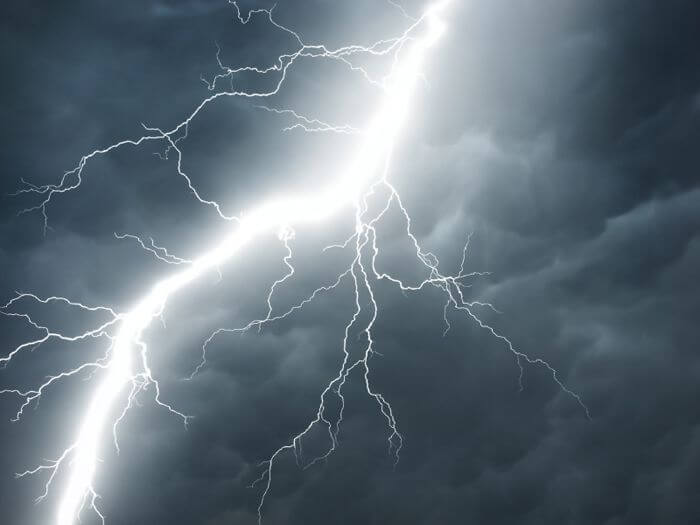 devastating. Hail pounding on a roof could cause dents, missing asphalt, bruising, or cracking in shingles.
Strong winds that typically accompany storms can cause shingles to crack, bend, or fly off, leaving the roof and the interior of a building vulnerable to leaks or further damage.
Storm Chasers
Generally how it begins, someone knocks on your door and offers to get up on your roof and inspect it for damage.  Knock, knock.  "Hello there, I am so and so with fly-by-night-Roofing!  Are you aware of the recent hail storm that recently pounded the area?"
Well, shortly after a hail or wind storm has occurred in the area these storm chasing contractor move into the area.  They are usually from out of town and will hire multiple people to canvass neighborhoods and out of town to replace these damaged roofs.  As they leave town for the next storm they leave a multitude of unhappy Asheville homeowners.
8 Tips to Help Choose the Right Roofing Contractor
Get local referrals. There is less chance of potential issues or scams when you choose a contractor from your community.  They are more familiar with local rules and code regulations and have a relationship with suppliers.
Look for manufacturer designations. Manufacturer designation are considered a badge of honor because the contractor must meet certain minimum requirements to be factor-certified (although, some manufacturers have more stringent requirements than others) GAF strictly enforces their top designation by only allowing 2% of roofing contractors per market to be recognized as Master Elite Contractors.
Get an extensive warranty. Not all contractors can offer warranties from the manufacturer that include coverage for the contractor's workmanship.  If a contractor installs the roof incorrectly, it may take months or years for the damage to show up – and insurance won't pay for it.  IF the contractor won't fix it (or worse, has gone out of business) your only recourse is to pay for their mistake yourself.  A Master Elite contractor can offer on of the longest workmanship warranties in the market –the Golden Pledge Ltd.    The Golden Pledge Ltd. Warranty includes an inspection by a GAF Factory-trained inspector, who will check the contractor's work after the roof has been completed.
Be concerned about safety. Contractors without a training or safety program may not be the best person for your job.  GAF sponsors a unique national training organization called the Center for the Advancement of Roofing Excellence. (CARE), which has trained over 125,000 professionals.  GAF is the only roofing manufacturer with a dedicated team of trainers in the industry.
Check for proper license and insurance. The contractor should have insurance for all employees and be able to provide a copy of their insurance certificate for validation.  Not having adequate insurance could potentially lead to litigation between a contractor and homeowner if the roofing employee has an injury at the home.  GAF Master Elite contractors must hold appropriate levels of Workers Compensation, at last #1 million worth of General Liability coverage, and have proper state and city licensing where they are performing the work.
Pay your deductible. Any contractor who claims that they can handle the repair without having the homeowner pay their insurance deductible is committing insurance fraud and endangering the homeowner.  The insurance deductible is the responsibility of the insured, and the contractor should reflect that in the quote without inflating the estimate to cover all or part of the deductible.
Don't give in to pressure. Watch out for a contractor who pressures you to sign a contract before the insurance company has estimated the damage.  Some contractors say they can work with whatever your insurance company settles upon, however the homeowner needs to ensure it's not just any amount, but the right amount.  The contractor should thoroughly examine the home and check that the insurance adjuster didn't miss any damages.
Know your material choices. A contractor who does not offer you different shingle options is not looking out for your best interest.  The style and color of the shingle you install can affect the resale value of your home.  If the insurance company is paying for a new roof, it may be the perfect time to make a change and upgrade to a more unique style that suite your taste.
When your home's been hit by a storm, don't trust your roof repair to just anyone.  Balken Roofing is a Master Elite Roofing Contractor certified by GAF – North America's largest roofing manufacturer.  Less than 2% of roofing contractors have qualified for this prestigious designation!  Worry-free warranty options and Financing options as low as $99 per month.  Call us today, (828) 662-3027.