If you do not schedule a teeth cleaning over a reasonable amount of time, you are likely to develop a cavity. Same goes for a roof, your roof will accumulate debris from trees, birds, soil, rain, & wind, which can seriously harm the life of your roof. As debris accumulates it can cause overflows, clogged valleys and blocked waterways. Once these things start happening the essential waterways are no longer functional, often leading to leaky roof.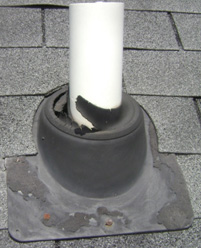 Your roof consist of many components, which cannot be seen from the ground such as pipe boots, vents, valleys, chimney, headwall and sidewall flashing etc. When these components are not regularly checked by a qualified roofing contractor they can cause leaks. Sometimes these leaks will not be noticeable until weeks later causing damage to your home. Regular roof maintenance can go a long way.
A roof is not the cheapest investment and most contractors fail to mention the importance of roof maintenance to the homeowner or property manager after their new roof installation. Balken Roofing wants to give you the guidance in how to make sure your roof last. Some believe because they have a new roof there is no need for roof maintenance; this is the best time to start.
More times than none you do not sit in your home thinking about the roof above your head. When you do think about your roof it is when water is leaking into your home during a severe rain storm. The last thing you want to do during the middle of the night is call a roofer for an emergency repair fix. Any emergency is expensive and roofing emergencies are no different. To prevent having to call an emergency repair team is making sure you are properly maintaining your roof all year long.
Bob Balken, owner of Balken Roofing suggests homeowners to receive an annual roof inspection by a qualified, licensed and insured local roofing contractor to avoid these unwanted roofing issues. Ask our team at Balken Roofing to set up an annual or bi-annual roofing maintenance program for your personal roof to prolong the life of your roof. Your home may need to have debris removed from the roof & gutters or flashing boots and vent boots inspected. Either way a qualified roof inspector or maintenance tech from our team at Balken Roofing will go over any details you may have about your roofing needs.
Just like with your teeth cleaning, schedule a regular maintenance inspection of your roof. Allowing these signs to persist can cause more damage and far more serious repairs. Start prolonging your roof's life today! Call Balken Roofing today at (828) 662-3027, so we can get you started on a maintenance plan to prolong the aging of your roof.