A flat roofing system can offer a sleek and altogether unique look to your home. But given its constant exposure to the harsh elements, it will develop some issues that not only negatively affect its performance, but shorten its life, as well. Fortunately, a flat roof generally has much of the same maintenance requirements as its steeper-pitched counterparts. Balken Roofing, the trusted expert in residential roofing systems in the area, shares how to head off common issues from your flat roofing system.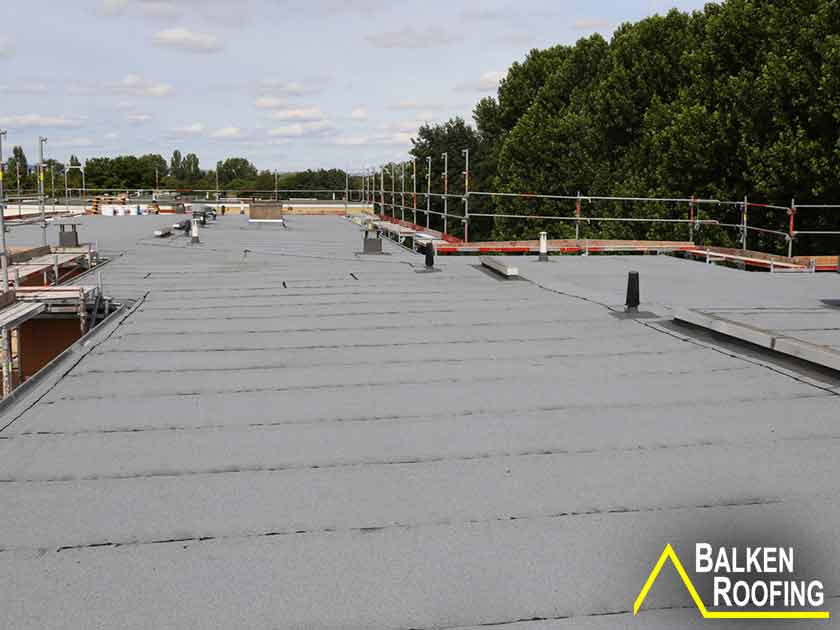 Regular Roof Cleaning is Important.
Flat roofs are not entirely flat–they still have a slight pitch for shedding rainwater. But sometimes, this isn't enough to prevent water from pooling on the roof surface. This occurs when leaves and other loose debris block the rainwater outlets of the system. Pooling water, along with these organic debris, encourage rot and allow for water infiltration. You can easily prevent this, however, by keeping your roof clean and cutting back any tree branches hanging over the system.
Have Your Flat Roof Inspected by a Professional.  
Flat roofs are more prone to leaks because of their low slope. And while conducting a visual roof inspection is handy, you'll still want to have it checked by Balken Roofing to ensure you don't miss anything. As one of the premier local roofing contractors in the area, we can thoroughly and accurately and thoroughly evaluate the existing condition of your flat roof. Should we discover any problems, we'll prevent them from getting worse through our exceptional repair services. This way, your flat roof can continue providing the reliable weather protection you've come to expect.
Get a Comprehensive Roof Maintenance Plan. 
You can make roof upkeep a more worry-free experience by working with Balken Roofing. We'll set you up with a thorough, individual roof maintenance program for your home. With this option, we can efficiently head off any problems in the first place so you can get the most of your flat roof's service life and performance.
Look no further than Balken Roofing for the highest quality roofing services. We'll help keep your home dry and damage-free with our flat roof maintenance solutions. We serve the areas in and around Swannanoa and Asheville, NC. Call us today at (828) 662-3027 or fill out this contact form to schedule your consultation.