We know it's tough but don't get caught up in pumpkin carving, apple picking, and colorful fall hikes.  Take responsibility and make sure your home is ready for the cold months rapidly approaching.  Our Balken Roofing team has prepared a checklist to do before Old Man Winter comes knocking on your door.  You'll want to make sure your home and business structures are ready for winter with this fall maintenance checklist because there is nothing worse than getting the first snowfall of the season and your not prepared.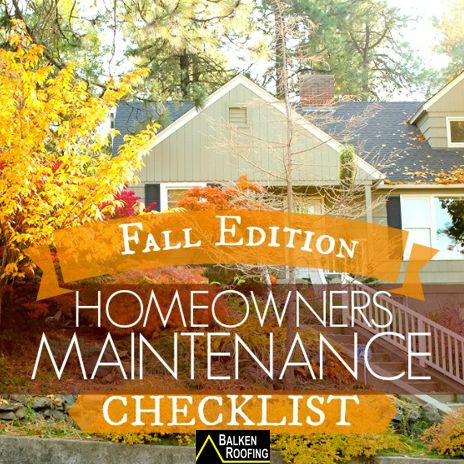 Insulate water pipes in areas exposed to cold temperatures and remember to crank up the thermostat a bit during extra cold periods.
Have your chimney cleaned and maintained every year by a reputable professional.  Build up can lead to a chimney fire.  If you have fires regularly, your chimney should be inspected once a year. *Schedule a yearly visit to avoid a long wait during the busy season.
Check for damage to your roof visually from the ground, looking for missing or damaged shingles.  Debris such as branches and leaves can accumulate in valleys and cause blocked waterways.  Bob Balken, owner at Balken Roofing suggests homeowners to receive an annual roof inspection by a qualified, licensed and insured local roofing contractor to avoid these unwanted roofing issues.  Ask our team at Balken Roofing to set up an annual or bi-annual roofing maintenance program to prolong the life of you roof.  The buildup of debris should be removed from the roof and gutters and pipe flashing and chimney flashings inspected.  *Maintenance is key so you are not prematurely re-roofing your home*
Have your gutters cleaned and checked as leaves can clog your gutter system causing water buildup and damage to your roof.  *Be sure downspouts carry the water away from the foundation on your home .*
Have your furnace cleaned and inspected by a qualified technician. This should be done annually. Don't forget to clean or replace the filter!
Clean the clothes dryer exhaust duct and space under the dryer. Remove all lint, dust, and any other material.  Every year, there are many deaths, injuries, and property loss due to dryer fires.
Keep a fire extinguisher accessible. Make sure it is filled and ready for operation.
Check smoke detectors. Make sure there is one on each floor of your home.  Change the battery annually or when necessary.
Be sure to check off your fall maintenance checklist.  If you need assistance with your roof or gutters call our Balken Roofing team today, 828-628-0390 Asheville or 843-352-2349 Charleston for your free no-obligation estimate.  We will set up a time for a Balken team member to meet with you and assess your roofing needs.