When it comes to commercial roof installation, property owners with low-slope roofs usually have only two choices: EPDM and TPO. These two are the best choices when it comes to flat roofs due to their innate durability, availability, and low-maintenance properties.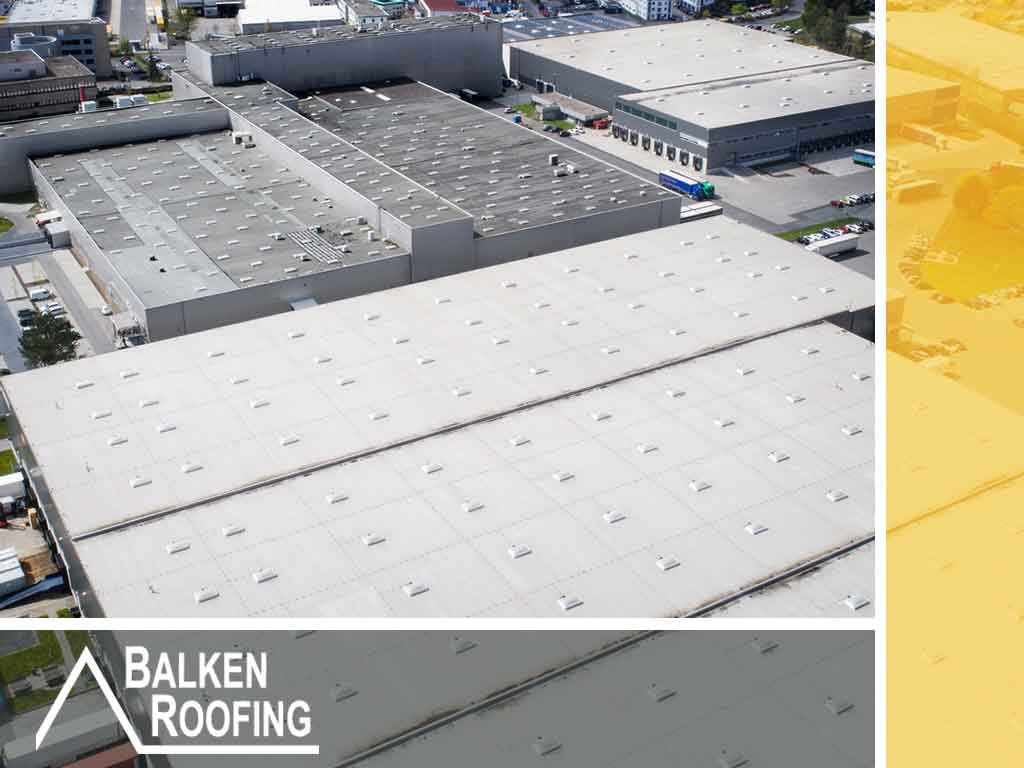 In this post, Balken Roofing goes in-depth why these two roof systems are the long-term and practical choice for a commercial property.
EPDM
This roof features a membrane made from synthetic rubber. In comparison to regular rubber, it is reinforced with Ethylene, Propylene, and Diene – hence the name. It's defining feature is its higher weather resistance as the rubber itself has better tolerance to heat and moisture. EPDM is what I call an "old-world material", because they invented it back in they 1960's, and it's such a good product that, aside from some minor reformulations, we still use it exactly like they used it in the 60's. It's basically such a simple product that there are only a handful of issues that can arise with it, and mostly it just gets patched back together with cover tape and glue whenever something punches a hole through it.
EPDM roofs are also elastic and flexible, which means they are less likely to crack under weather stresses and pressure. It's also one of the easier roof membranes to install as they don't require any special equipment. The roof replacement cost is also fairly agreeable due to its availability.
The trick to a successful installation on an EPDM job is a good installer. You need someone with attention to detail to get every seam and flashing just right, and someone with patience, as most of this work is done manually with a small rubber roller and a paintbrush
TPO
Also known as thermoplastic polyolefin roofing, this is a single-ply roofing membrane that's a good alternative to EPDM. It has one of the most impressive minimum breaking points at about 300 pounds per inch, depending on the brand. This makes a TPO roof one of the most durable commercial roofs and they can withstand weather damage and constant foot traffic very well. The ability to handle foot-traffic is a deal-breaker for some larger commercial buildings, as most of the HVAC equipment is located on the roof, and needs to be serviced on a regular basis.
TPO roofs are heat-welded at the seams and penetrations (when installed properly), which gives a more durable seam than the adhesives used for EPDM. On large roofs, these seams are welded with – believe it or not – a robot, which is much more reliable than hand-welding a seam. Again, the trick is to find a competent installer – someone who takes the time to do a seam weld test on a scrap piece of rubber before they let the robot loose, and who has an eye for detail to follow the robot with a seam-pick and test out every inch of the roof for quality assurance.
Like EPDM roofing, it also is available in a range of colors. Lighter shades are still the better choice though as it will increase the solar reflectance of the PVC roof. Most all of the TPO we install is white, due to the price-hike associated with other colors.
At Balken Roofing, we will help you decide which of these two high-quality commercial roofs are the best choice for your home or business. We also offer expert roof repair service for both residential and commercial property owners.
Give us a call at (828) 662-3027 to learn more about our new roof installation services. We offer commercial roof installation in Hendersonville, NC.