At Balken Roofing, we do more than just residential roofing; we also offer expert commercial roof installation. Today, we discuss the features and performance our most common commercial roofing systems.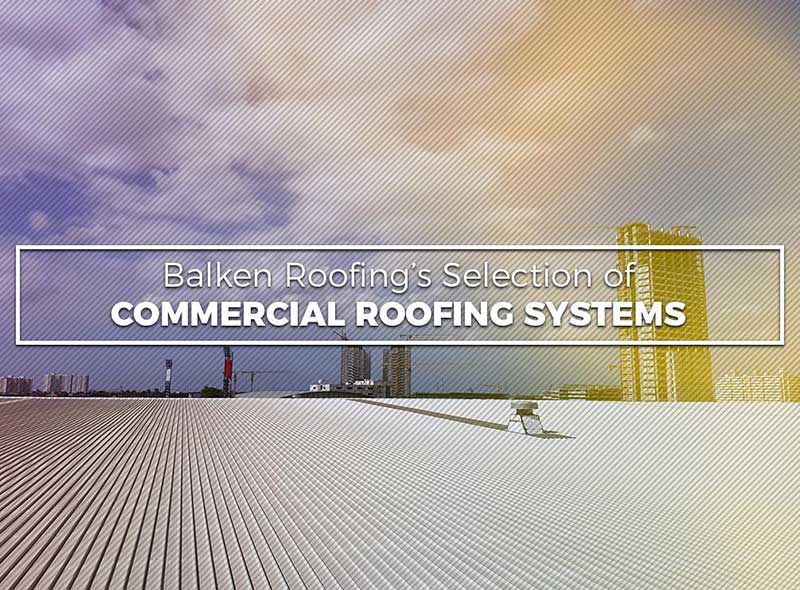 Thermoplastic Roofing Membranes
Most commercial properties use flat roofing, and membranes are typically the preferred choice. We offer thermoplastic roofing membranes, such as PVC and TPO roofing.
For PVC, this single-ply membrane is reinforced with either polyester or glass fiber, making it one of the more durable roofing systems with an equally long life span. TPO is a newer membrane technology. While similar to PVC, it is slightly more affordable. Both roofing systems are ideal for commercial roofs, especially if you prefer roofing that offers long-term value with nearly the same roof replacement costs.
EPDM Roofing Membranes
EPDM is a synthetic rubber single-ply membrane with a strong reputation for durability. This high-performance system offers a variety of installation options that deliver leakproof, long-term solutions for flat roof decks. Seams are taped and treated with adhesives. When properly installed, an EPDM roof can last 30 years, but seams will require maintenance during that time.
Other Commercial Roofing Options
We also offer wood shingle, slate and tile roofing systems. Regardless of your aesthetic or performance needs, count on us to install your new commercial roofing system with precision.
Balken Roofing offers everything from roof repair services to an excellent selection of roofing materials. Your home is in good hands with us. Call us today at (828) 662-3027 for more information on our products and services. We offer roof replacement throughout Hendersonville and Asheville, NC.