EPDM, or ethylene propylene diene monomer, is a kind of membrane roofing that has been the commercial roof installation material of choice for over 40 years now. EPDM is also known as "rubber roofing," and, depending on your roofing requirements, may just be the low-slope roofing material that you need. Choose EPDM if: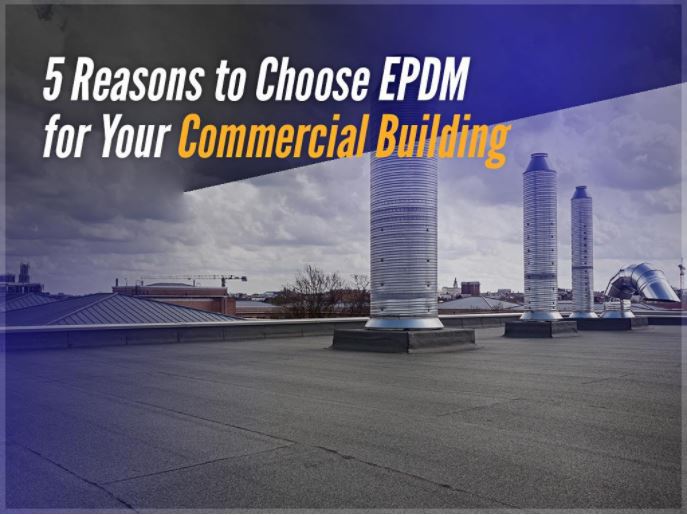 Your Area Experiences Extreme Temperature Changes – EPDM is perfectly capable of withstanding extreme temperature changes without cracking or breaking, thanks to its inherent flexibility. This makes EPDM the ideal roofing material for areas that swing from blazing hot summers to freezing winters. However, buildings in more moderate climate can benefit from EPDM rubber roofing as well. Even with the use of plasticizers in modern TPO roofing, it does not stay as flexible as EPDM does.
Your Roof Is Sited in a High-Wind Area – One of the challenges of managing a high-rise is its susceptibility to high winds. While proper installation plays a large part in making sure your roofing material doesn't get torn off by the wind, the choice of material is a factor, too. EPDM has superior wind uplift resistance, making it less likely to incur unplanned costs and giving you peace of mind, especially if your area gets hits by storms often. Balken Roofing typically installs EPDM roofing as a fully adhered system, meaning that every square inch of it is glued to the substrate with a commercial-grade bonding adhesive. While it might seem to you that gluing down the roof is a cheap-out, it is actually more expensive, and better, than a mechanically fastened system. With less penetrations through the membrane itself, and a much greater wind uplift rating, we firmly believe that the best flat roof is glued down good!
You Need a Lightweight Roofing Material – If your roof is structurally incompatible with a heavy roofing system like the classic gravel (or ballasted) roof, then EPDM is your best choice. EPDM requires a single layer of top material for installation, making it much lighter than most traditional roofing systems. The fewer layers also mean a much shorter installation time, which, in turn means less disruption on your daily operations.
You Need a Low-Maintenance Roof – Roof maintenance from skilled roof repair service providers is an essential part of the upkeep of every roof – in fact, Balken Roofing offers extensive roofing maintenance services. However, it does take time and resources, and neglecting maintenance is common for so many property owners. Fortunately, EPDM only requires scheduled maintenance once every few years, which may save you some money in the long run. It is important to note, however, that if humans made it, it will break eventually. After all, you wouldn't expect your car to run well if you never changed the oil filter, would you?

You Need a Roof With a Long Life Span – A typical EPDM roofing system has an expected life span of about 30 years, perhaps even longer with proper maintenance. Combined with its superior durability and low-maintenance properties, an EPDM roof is one of the most reliable roofing options you can get for your commercial property. A quality coating can extend the life of your low slope roof past even 30 years, provided it is properly installed, and that the roof is in passable condition before the coating is installed.
If you would like to know more about EPDM roofing systems or even ask about a roof replacement cost, call Balken Roofing today at (828) 662-3027. You can also fill out our contact form to schedule a free estimate. We serve many areas in and near Hendersonville, NC and Asheville, NC.