Material does matter when it comes to choosing a new roofing system for your commercial property. And those looking for a classic single-ply roof option should consider polyvinyl chloride (PVC). Here's why.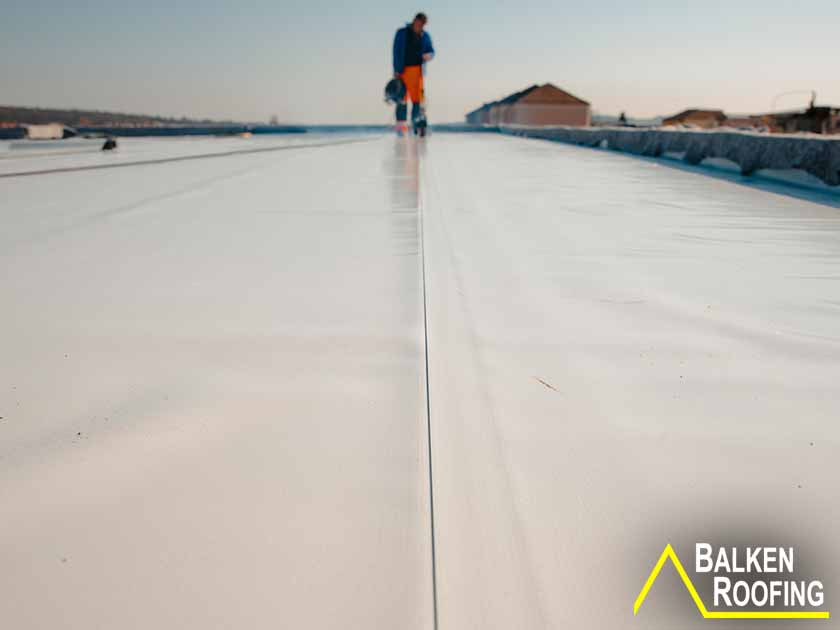 Superior Durability
Its heat-welded seams are probably the best feature of PVC single-ply roofing. They make the system stronger and more resistant to moisture, creating a watertight bond that significantly reduces the potential for leaks. Unlike its counterparts, PVC roofing doesn't need adhesives, caulks and tapes to keep its membranes sealed – the heat-welded seams are already more than enough.
Long-Lasting Performance
Because of its incredible strength, PVC roofing can provide decades of reliable weather protection, especially when installed and maintained by one of the most trusted local roofing contractors, Balken Roofing.
Greater Resistance to Damage
How effective is PVC roofing at heading off damage? Super effective as it turns out. The material is impervious to wind damage and chemical exposure. Because it's non-combustible, PVC roofing can also help slow down flame spread as proven after being tested by UL and FM Global.
Increased Energy Efficiency
PVC roofing usually comes in lighter colors, such as off-white, tan and light gray. They not only give the roof surface a neat and sleek look, but they also make the system more effective at reflecting sunlight. This means excess heat won't transfer into your building and create thermal discomfort to its occupants. It also reduces your reliance on your cooling system, helping you save more energy.
Fast Installation
PVC membranes are lightweight, which makes them easier and faster to install. And while its installation will be costly upfront, its durability, lasting weather performance and low-maintenance value more than makes up for the higher initial costs.
You may know Balken Roofing best as an expert in residential roofing systems, but we can also handle your commercial roof installation needs. With our top-tier PVC roofing systems, we'll help keep your building safe and damage-free no matter the season. Call us today (828) 662-3027, or fill out this contact form to schedule a roof evaluation. We serve Asheville, NC, and the surrounding areas.