Leaving a roof leak unattended can cause major damage. From interior damage to safety hazards, it can threaten your home and your family's wellbeing. That's why it's imperative to address this issue as soon as you can. Understanding the causes of roof leaks can help you prevent them. Balken Roofing, the top local roofing contractor, lists down the four causes for which to watch out: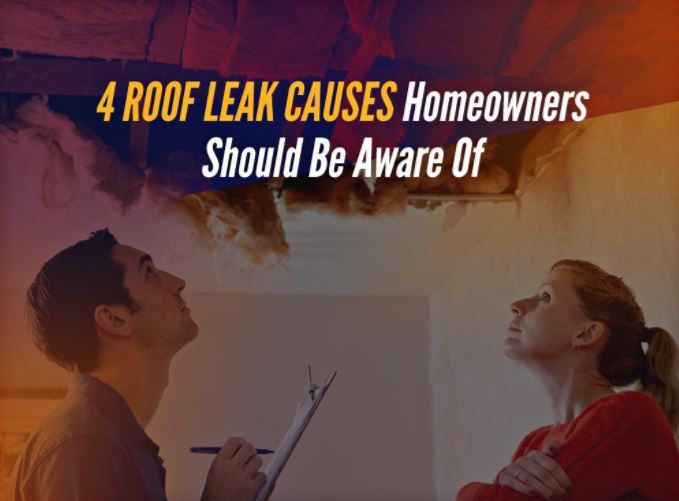 Roof Shingle Damage – Harsh weather conditions and normal wear and tear can cause your asphalt shingles to crack, buckle or curl. This creates a gap for water to infiltrate your roofing system. If the shingles on your roof are relatively new, you may be able to replace them with new ones. If the cracking or buckling is present throughout the roof, or if your roof is more than about 15 or 20 years old, it may be time to consider a new roof.
In fact, shingle manufacturing technology has made leaps and bounds in the past decade or so, and the shingles we are installing now are made to last 35, 40, 45, even 50 years. Newer shingle technologies allow for better weather resistance ( see GAF ArmorShield shingles http://www.gaf.com/Roofing/Residential/Products/Shingles/Timberline/ArmorShield ), better heat reflectivity ( see GAF Cool Series  http://www.gaf.com/Roofing/Residential/Products/Shingles/Timberline/Cool_Series ), and better overall performance against wind. The methods Balken Roofing uses to install a roof combined with new production technologies, imbues even our base-package roofing system with a 130 MPH wind rating.  That's pretty darn good compared to the 3-tabs of yesteryear!
Cracked or Loose Flashing – Flashing refers to the thin pieces of metal installed on the joints of your roof that create a water-resistant barrier. If your flashing was improperly installed to begin with, and then sealed with caulking or tar, this seal can corrode or come loose over time. Once you spot this problem, seek the help of a trustworthy roofer like Balken Roofing right away. As part of our quality roofing services, we can repair or replace damaged flashings and prevent roof leaks. The number one cause of flashing-related leaks is improper installation. Even if it has been several years since you have had a roof put on and your roof is just now leaking, this still may be the root cause of the issue.
Get this! Shingles aren't water-proof! What!? That's right, your flashings aren't either. That's why buildings designed to have a shingle roof have a pitch. All we can do as roofers is design clever ways to channel water where it more desirable (see my section on gutters below).  Flashing is this principle applied to any part of your roof where water would normally roll off the end of one shingle and straight into a penetration through the roof decking. Walls, chimneys, pipes, all these things require flashing to divert water to a more desirable area (anywhere not inside your home!).  Bob Balken, owner and president of Balken ROofing, always says that a 5 year old child can install shingles, but only a qualified and well-trained roofer knows how to make the detail pieces work. So don't chance it, call the experts!
Attic Condensation – Condensation takes place when indoor and outdoor temperatures don't match and when there's poor ventilation or insulation. This problem can encourage rot and mildew growth. Improper ventilation can also cause your roof to deteriorate faster. Make sure your attic has proper insulation and ventilation to avoid this problem. Leading experts in the roofing industry say that an attic should always be as close to the outside temperature as possible. While we know this is usually a quite difficult feat to manage while maintaining your home's thermal envelope and correct interior temperatures, Balken Roofing has experts trained in designing complete ventilation systems for your roof/attic space.
With all of the new homes being built in Buncombe county, moisture control and roofing ventilation is becoming a bigger issue with each passing day. While new building codes and new building materials make houses tighter and tighter, more homeowners are experiencing  moisture issues now than ever before. Remember your great aunt complaining of a draft in the old family farm house? That's because there was one. Older homes didn't need to be designed with as precise of an attic ventilation system because homes weren't built as tight as they are now. Plus your great-grandparents heated with wood anyway, and we all know how much that dries the air out.
So think of your attic as the lungs of your home. Dry air comes in through one set of vents, old stale moist air leaves through another. This keeps your roof decking dry, and it also keeps your insulation dry, leading to lower heating and cooling bills both.
Gutter Clogs – Your gutter system is designed to carry rainwater away from your roof, and away from your siding, your fascia, your windows, and your foundation. Gutters have an open-topped design, however, which allows leaves, twigs and other debris to congest the system. This may cause rainwater to back up into your roof and seep through at the edges. This water can find its way into your home and cause damage if the left unchecked. Clean your gutters at least twice a year and after a storm to keep the water freely flowing. For a lower-maintenance option, Balken Roofing offers comprehensive gutter guard solutions that won't clog or become a ramp for water to spill over like some types of gutter guard or "helmet" will. We only offer one type of tried and tested gutter cover system, made out of the same type of aluminum that your gutters are made of.
As your reliable residential roofing systems expert, Balken Roofing has extensive knowledge about locating and fixing roof leaks. We understand that a water leak can be tricky to locate because it can travel by rolling down beams, by dripping and by seeping. Fortunately, our experience means we know how to quickly locate roof leaks. Call us at (828) 662-3027 to learn more about how we can assist you. We service Asheville, Hendersonville,  and the surrounding areas in North Carolina.
Signing off for now – Sam Webber, Balken Roofing.